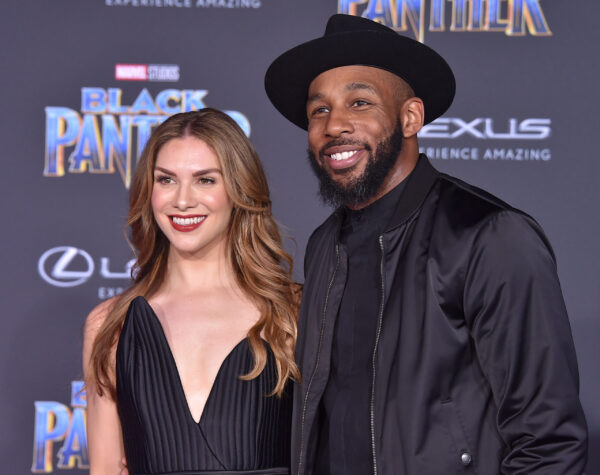 Stephen 'tWitch' Boss's wife Allison Holker legally granted half of her late husband's future earnings
Stephen 'tWitch' Boss's wife Allison Holker legally granted half of her late husband's future earnings. Widely known as 'tWitch,' Boss was a beloved figure in television and in the dance world. He served as the DJ for the"Ellen Degeneres Show" and rose to fame on dance competition show "So You Think You Can Dance."
Nearly five months after the tragic death of famed dancer and television personality Stephen tWitch Boss his wife Allison Holker was granted half of Boss's future earnings on Friday.
Documents obtained by CNN show a Los Angeles Superior Court judge signed off on an order last week granting Holker one half interest in 100 percent of all shares of Boss's company, Stephen Boss Productions, Inc., along with one half of the interest earned in an investment account.
Holker is also now entitled to receive one half of future earnings and royalties from entities relating to Boss's professional pursuits as his surviving spouse.
Holker filed the property petition earlier this year as Boss's surviving spouse due to him not having a will at the time of his death.
Boss died by suicide in December 2022. He was pronounced dead in the Los Angeles suburb of Encino, CNN confirmed via the Los Angeles County Coroner at the time. He was 40.
"It is with the heaviest of hearts that I have to share my husband Stephen has left us," Holker said in a statement at the time. "Stephen lit up every room he stepped into. He valued family, friends and community above all else and leading with love and light was everything to him. He was the backbone of our family, the best husband and father, and an inspiration to his fans."
"To say he left a legacy would be an understatement, and his positive impact will continue to be felt," she added. "I am certain there won't be a day that goes by that we won't honor his memory. We ask for privacy during this difficult time for myself and especially for our three children."
Holker concluded her statement by saying "Stephen, we love you, we miss you, and I will always save the last dance for you."
Read more related articles here:
Allison Holker Boss Granted Half of Late Husband Stephen 'tWitch' Boss's Company and Future Earnings
Also read our previous Blogs, here:
WHAT HAPPENS WHEN SOMEONE DIES WITHOUT A WILL?
Tragically Aaron Carter 'died without a will' leaving the state to decide who will inherit his assets.
Click here to check out our On Demand Video about Estate Planning.
Click here for a short informative video from our own Attorney Bill O'Leary.