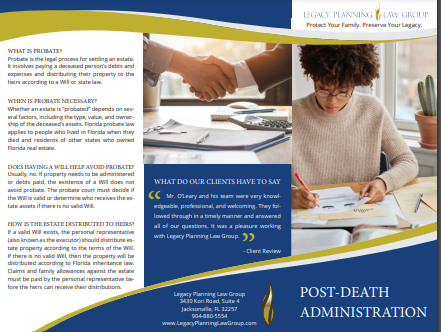 WHAT IS PROBATE?
Probate is the legal process for settling an estate. It involves paying a deceased person's debts and expenses and distributing their property to the heirs according to a Will or state law.
WHEN IS PROBATE NECESSARY?
Whether an estate is "probated" depends on several factors, including the type, value, and ownership of the deceased's assets. Florida probate law applies to people who lived in Florida when they died and residents of other states who owned Florida real estate.
The Estate Resolution Program provides guidance to family members faced with the daunting task of having to administer the estate of a loved one who died.
Download our free Post-Death Administration Brochure and contact us to get started on your Post-Death Administration.
Please complete the form below to receive your FREE Post-Death Administration Brochure.