WHAT IS VA PENSION PLANNING IN FLORIDA?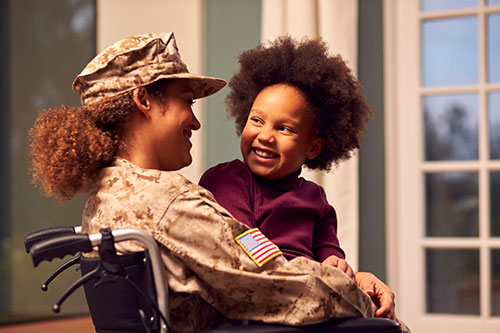 Many families struggle to provide necessary care for aging or disabled veterans or their surviving spouses. Unfortunately, most of these families are unaware of the significant benefits they are entitled to through the Department of Veterans Affairs called Aid and Attendance. Our experienced Jacksonville veterans planning lawyers can help you and your family understand veterans' benefits in Florida.
THE APPLICATION PROCESS – FLORIDA VETERANS BENEFITS ELIGIBILITY
For qualifying veterans, the Aid and Attendance benefit is paid in addition to the basic pension rate for seriously disabled wartime veterans with limited or no income, age 65 or older, or, if under 65, wholly and permanently disabled.
What if you are medically eligible but have too many assets or too much income to qualify?
As with any government program, the rules governing eligibility are constantly fluctuating. In October 2018, the VA changed how it calculates net worth, making rules governing asset limits a little more complex. Limitations apply when rearranging your assets to qualify, retitling, or gifting assets. It's important to seek professional legal advice and establish a Veterans Asset Protection Trust to avoid complications that may render you ineligible.
Application for Aid and Attendance Veterans Benefits is a complex and lengthy process. The forms are available for you to fill out and submit yourself, but even minor mistakes in your application can lead to claim denial, and you must wait a year before reapplying. Our Jacksonville elder law attorneys complete your application correctly the first time.
UNDERSTANDING AID AND ATTENDANCE BENEFITS FOR FLORIDA VETERANS
Who is Eligible to Receive Aid and Attendance Benefits?
There are three aspects of eligibility for the VA Aid and Attendance benefit in Florida – Service, Medical, and Financial.
A veteran must have served at least 90 days of active military duty, with at least one of those days during wartime (as defined by the Veteran's Administration). Additionally, the veteran must have received an honorable discharge.
The veteran or surviving spouse must show that they require the "aid and attendance" of another person to perform the basic activities of daily living.
The person requesting the benefit must have a financial need. Each application is evaluated individually.
HOW CAN I QUALIFY FOR AID AND ATTENDANCE BENEFITS IN FLORIDA?
As with any government program, the rules governing eligibility are always evolving. With federal budgets stretched to the limit with deficit spending, expect the rules governing financial eligibility to become stricter. You must have limited financial resources, both in terms of "countable income" and net worth. Beware that some actions taken to qualify for VA benefits in Northeast Florida could create a penalty period or perhaps even disqualify you entirely from later receiving Medicaid benefits should they be needed. These actions include any attempts to rearrange your income and assets to qualify.
COUNTABLE INCOME REQUIREMENTS
Your "countable income" must be less than the Maximum Annual Pension Rate. In other words, a veteran or surviving spouse can't have an annual income higher than the maximum annual VA pension benefit amount they can potentially receive. Don't forget that the income of both spouses is counted for married veterans.
What does "countable income" mean? It is simply all of the income a veteran or surviving spouse receives, regardless of source. These sources may include earnings from work, retirement and pension payments, social security, and social security disability insurance (SSDI) payments. Nevertheless, countable income may be reduced by subtracting Unreimbursed Medical Expenses (UMEs) from annual income. What are some examples of UMEs? They include the cost of home health services, dentures, hearing aids, wheelchairs, premiums for health insurance, and even prescription drugs. Although UMEs may be deducted to lower countable income, increasing the pension benefit amount is not that simple. The calculations can be rather complicated.
NET WORTH REQUIREMENTS
Just like with countable income, the net worth of a Florida veteran or a surviving spouse must be limited to be eligible. The VA made some dramatic changes regarding how net worth is treated back in 2018. Net worth includes savings and checking accounts, mutual funds, stocks, and vacation homes. Interestingly, your primary residence is not included in your assets when calculating your net worth for eligibility purposes.
OUR JACKSONVILLE VETERANS' PLANNING ATTORNEYS CAN HELP
What if you are service and medically eligible but have too much income or too many assets to qualify? Do not give up. Contact our Jacksonville law firm for assistance with the application process or to understand the various options available to you as a veteran.
Legacy Planning Law Group is here to help you and your loved ones understand estate planning, elder law, post-death administration, and business planning in Duval County, Florida. If you're interested in learning more about our legal services from our experienced Jacksonville, Florida, elder law planning attorneys, please don't hesitate to contact us by booking a call today.
How Will You Protect Your Family?
At Legacy Planning Law Group, we work with you to the create a plan that protects your family and preserves your legacy so you can have confidence about what lies ahead and finish the race strong.