FLORIDA BUSINESS SUCCESSION PLANNING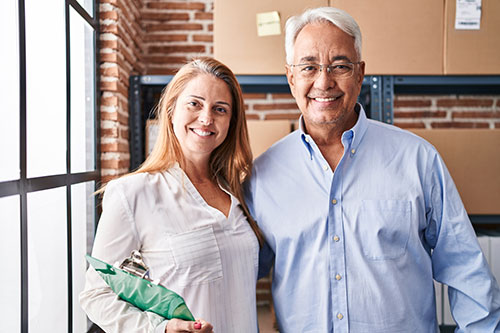 Our Jacksonville business lawyers know it's critical to develop a succession plan for a smooth transition of your Florida business when you are ready to retire. More than 50% of all small-business owners in Florida are 50 or older, which means many of them are approaching the point where they need to plan for a transition to the next owner. Whether passing the family business on to a child or selling to a third party, be sure everything is appropriately taken care of on your behalf.
Did you know that 70% of businesses do not transition from first to second generation owners, and nearly 90% never successfully pass to a third generation? Another disturbing fact is that fewer than 30% of all business owners have a written succession plan, which is why many businesses fail when transferring to a new owner. Our experienced Jacksonville business succession planning attorneys can help you establish a succession plan to meet your business goals in Florida.
UNDERSTANDING BUSINESS SUCCESSION PLANNING FOR A FLORIDA BUSINESS
A good succession plan will address both the people and the money involved in the process. This planning is crucial to generate the money you will need during retirement. For example, your succession plan may involve family members already familiar with the business. Their knowledge could help ensure continuity during the change in leadership.
WHO SHOULD YOU NAME IN YOUR DUVAL COUNTY BUSINESS SUCCESSION PLAN?
Before you name someone as the successor, make sure you discuss it with them to ensure they are ready for the responsibility. Too often, a parent will be highly passionate about their business, but the child just sees it as a job. Taking these things into account can help ensure you make the best decisions for your future and the future of your business.
Suppose your children or other family members don't want to take over the family business, or you don't think they would be up to the challenge. In that case, you may want to consider one of your employees as the successor. Long-term employees often make excellent owners because they know the business better than anyone.
No matter what you decide to do with your business, start planning for it today. Having a written succession plan in Florida does not mean you must follow through (unless there is a contract in place). If circumstances change, the business plan can be updated as needed. By working with an experienced business attorney to create a succession plan, you can give your successor the best possible chance at success through the transition and well into the future.
WORK WITH AN EXPERT JACKSONVILLE BUSINESS ATTORNEY FOR YOUR FLORIDA BUSINESS SUCCESSION PLANNING
Whether you need to update an existing succession plan or want to create one for the first time, our experienced business law attorneys can help. Legacy Planning Law Group helps you and your loved ones understand estate planning, elder law, post-death administration, and business planning in Duval County, Florida. If you're interested in learning more about our legal services from our experienced Jacksonville, Florida business planning attorneys, please don't hesitate to contact our Jacksonville law firm by booking a call today.
How Will You Protect Your Family?
At Legacy Planning Law Group, we work with you to create a plan that protects your family and preserves your legacy so you can have confidence about what lies ahead and finish the race strong.