Clients benefit more from estate planning and asset management when trusted professionals work as a team to meet their goals.
At Legacy Planning Law Group, we build trusted partnerships to provide more value to our clients. Working with their CPAs, financial advisors, and tax professionals ensures a holistic approach. As experienced estate planning and elder law attorneys, we respect your insight into areas beyond our legal expertise. Together, we can address the concerns of growing families and aging adults with transparency and compassion. After all, their problems reflect many of our own.
How We Will Work Together
We believe clients are best served by a team. It's important to include you, their trusted advisor, in their estate planning process because you can bring a different perspective and additional value. This involves having you attend meetings with our mutual client and us at various steps in our 7-step planning process called our Legacy Estate Program.
Clients are asked to complete a thorough estate planning process to look at their unique families and situations. When we start the process, they share important information with us and may refer us to other experts, like you, who they rely on to manage financial matters.
Our goal in steps 1-4 is to uncover client concerns and understand their estate planning goals, then recommend legal tools to solve specific problems. We guide them through difficult decisions to achieve the best possible options under federal and Florida state law.
As we start the process of drafting the important legal documents, we embark on step 5 of the Legacy Estate Program called Financial Team. It is here where we encourage the client to involve their trusted advisors in the planning process. Then we get to step 6, called Asset Alignment, where the client's assets are properly aligned with their trust. We like to collaborate with the client's advisors at this point.
Finally, we reach step 7 of the Legacy Estate Program called the Client Care Program. This program is centered around the relationship model we so strongly believe in. As part of the Client Care Program, the client is invited to hold a Family Meeting to share the how and why of their plan with their loved ones. We strongly encourage the client to invite their advisors to this meeting which offers an opportunity to meet the client's family members.
Estate plans continue to evolve as property is purchased and sold, family members marry or divorce, and children and grandchildren are born. Working together with a client's trusted advisors ensures nothing falls through the cracks, and their estate plan will always protect them.
Join the Legacy Planning Law Group team to provide mutual clients with the peace of mind that they have trusted the right professionals to get the job done.
There are many ways to get to know us:
Download Our Free
"About Us" Brochure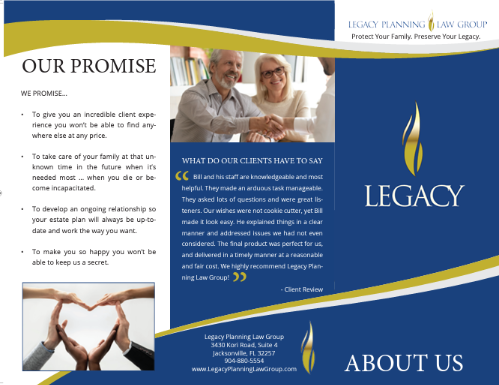 Protecting our Mutual Clients
At Legacy Planning Law Group, we believe a team of experts is necessary to create a plan that protects families and preserves legacies. Together we can inspire confidence in our clients about what lies ahead.