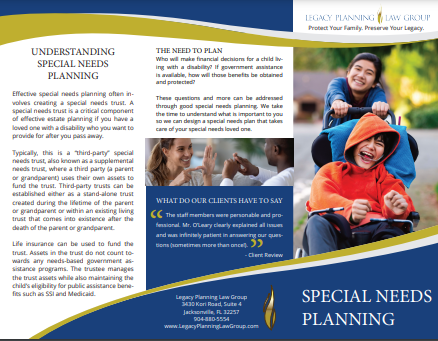 Effective special needs planning often involves creating a special needs trust. A special needs trust is a critical component of effective estate planning if you have a loved one with a disability who you want to provide for after you pass away.
Typically, this is a "third-party" special needs trust, also known as a supplemental needs trust, where a third party (a parent or grandparent) uses their own assets to fund the trust. Third-party trusts can be established either as a stand-alone trust created during the lifetime of the parent or grandparent or within an existing living trust that comes into existence after the death of the parent or grandparent.
Download our free Special Needs Planning Brochure and contact us to get started on your Special Needs Trust.
Please complete the form below to receive your Free Special Needs Planning Brochure