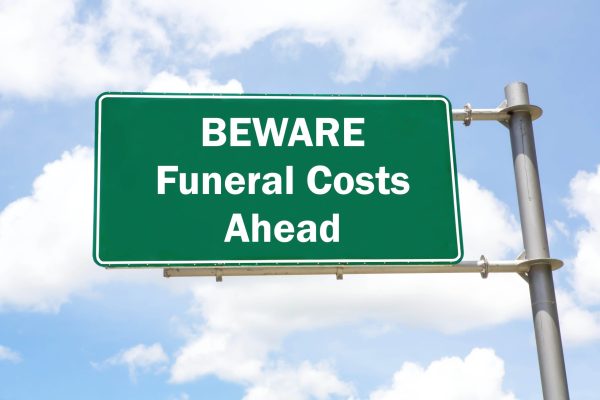 How Much Does A Funeral Cost?
The cost of living isn't cheap. Neither is the cost of dying.
A 2021 study from the National Funeral Directors Association shows the median cost of an adult funeral with viewing and burial is $7,848, up 6.6% from 2016. The median cost of an adult funeral with viewing and cremation is $6,970, up 11.3% from 2016.
Among the highest costs associated with a funeral for an adult is the casket. The study finds that the median price of a wooden burial casket is $3,000 and the median price of one made of metal is $2,500. Meanwhile, a "green burial" casket goes for a median price of $1,500 and a cremation casket goes for a median price of $1,310. The study pegs the median cost of a rented casket at $995.
National Median Funeral Costs
Here's a look at what you might expect to pay if you're planning a funeral.
Type of cost
Median price
Description
Casket
$2,500
Cost for a metal casket; your cost will depend on the materials you choose.
Cremation casket
$1,310
A fully combustible container, this can be a traditional casket or cardboard box, but it cannot have any metal parts.
Urn
$295
Container to hold cremated parts.
Cremation fee
$368
If the funeral home does not own a crematory and uses a third party.
Required basic services fee
$2,300
Covers the funeral home's time, storage of remains and overhead expenses.
Embalming
$775
Not required by law, but a funeral home may require it if you hold a viewing.
Other preparations of the body
$275
May include hairstyling, cosmetic reconstruction and dressing the deceased.
Use of facilities/staff for funeral ceremony
$515
If you have the ceremony at the funeral home, you can expect to pay this fee.
Hearse
$325
Transporting the remains from the funeral home to the burial site.
Service car/van
$150
Transporting the family and guests from the funeral home to the burial site.
Printed materials
$183
Memorial package and guest book.

Source: National Funeral Directors Association, 2021 median costs
Navigating the Unknown Costs of a Funeral
Josh Slocum, executive director of the nonprofit Funeral Consumers Alliance, which helps people plan affordable funerals, says it's tough to navigate the costs connected to funerals because most of us plan just one or two funerals during our lifetimes. By comparison, we may buy several cars, cellphones and major appliances over time, giving us a better sense of what to expect in terms of prices.
Lack of price transparency complicates the situation. Ed Michael Reggie, founder and CEO of Funeralocity, a website for comparing funeral and cremation costs, notes that many of the more than 18,800 funeral homes in the U.S. don't post their price lists online. Therefore, he says, you might need to call several funeral homes to compare funeral costs.
Jan Smith, vice president of funeral operations at Flanner Buchanan Funeral Centers, a funeral home with 13 locations in Indiana, says that even though many funeral homes publish their price lists online, she suggests having a funeral home "walk you through" the pricing to gain a full understanding of the costs.
"I do think it's important to talk with the various providers because many times there are different things that different providers may include or not include, so the price may not necessarily reflect the value of everything you're going to receive," Smith says. "I always encourage people to do their homework and be educated."
According to the Funeral Rule enforced by the Federal Trade Commission (FTC), funeral homes must provide price information over the phone if you ask for it. Although they're not required to do it, many funeral homes will mail a price list to you, and some post their lists online, the FTC says. A funeral home also must give a written, itemized price list to you if you visit the funeral home.
To help save costs on funeral arrangements, you might check out resources from websites like Funeralocity and organizations like the Funeral Consumers Alliance.
"There's really no good reason to spend an extra $2,000 or $3,000 on a very simple service when you can usually find that somebody in your area has a more reasonable price," Slocum says.
Direct Cremation Provides an Alternative to a Funeral
If you're concerned about paying thousands of dollars for a funeral, Reggie recommends turning to direct cremation. Direct cremation, also called simple cremation or immediate cremation, involves cremating a person's remains shortly after they die and bypassing the viewing, visitation, funeral and burial.
The Cremation Society of America says direct cremation allows the deceased person to be cremated in a simple container or vessel instead of a pricey casket. Also, this approach eliminates the need for embalming, which has a national median cost of $775.
The average cost of a direct cremation done by a crematory is $1,000 to $2,200, while the average cost of a direct cremation at a funeral home is $1,600 to $3,000, according to Parting.com, which helps people find providers of funeral services.
Using Life Insurance to Pay for a Funeral
Regardless of which services you settle on, paying for a funeral can strain someone's budget. If you're worried about a survivor covering your funeral costs, you might consider buying a burial insurance policy. Sometimes known as funeral insurance or final expense insurance, it's a type of life insurance designed specifically for funeral or cremation costs and final expenses. Burial insurance policies are typically sold in small amounts, such as $5,000 to $25,000.
But you don't need a specific burial insurance policy to pay for your final expenses. For example, your beneficiaries can use the death payout from any life insurance to pay for the cost of a funeral.
Other Ways to Pay For a Funeral
Here are some other options to pay for funeral costs.
Pre-need funeral insurance. This is insurance purchased directly from a funeral home. The advantage is you'll be able to lock into a contract and prices. But your plan might not be "portable," meaning you won't be able to take it to another state. And pre-need insurance pays only for a funeral. It doesn't provide funds that go to your family for other needs they may have.
Payable on death (POD) account. Also referred to as "Totten Trusts," this is a way to put aside money for your final expenses with a bank account. You can name the person who will have access to the money when you die, but your beneficiary cannot have access to the money while you're alive.
Funeral trusts. This is an agreement where you can set aside money for final expenses and name a trustee. The trustee can withdraw money from the account after you pass away.
Trusts. In this type of agreement, the trust owns the life insurance policy. When you pass away, the trustee makes a claim and the funds are distributed according to your wishes outlined in the trust documents.
Savings account. You can use a regular savings account to pay for your funeral, but your money could be held up in probate after you die. You could potentially avoid this problem by adding a person to a joint savings account who will use the money for the funeral, but that person will have full access to the account while you're alive.
If you or your family cannot afford a funeral or cremation, you may be able to get government assistance from a federal program such as:
Veteran benefits. Veterans can be buried in one of the 141 national cemeteries at no cost. Spouses and dependents might also qualify. Check with the U.S. Department of Veterans Affairs for eligibility requirements.
Federal Emergency Management Agency (FEMA). For deaths resulting from a declared disaster or emergency, you may qualify for FEMA Funeral Assistance.
State government assistance. Many states have financial assistance programs if you cannot afford a funeral. Here is a list of programs by state, compiled by Funeralwise.
Crime victim compensation programs. Some states provide financial assistance to help pay for funerals for victims of violent crimes. Here is a list of state programs from the National Association of Crime Victim Compensation Boards.
Personal loans. Sometimes referred to as "funeral loans," these are really personal loans that you can spend any way you like. Personal loans are usually unsecured, which means they do not require collateral (like a lien on your car) and often have high interest rates, which could range between 16% to 35%, according to AARP.
Crowdfunding. This generally refers to raising money through donations from the general public, such as churches, other organizations and crowdfunding sites like GoFundMe.
How to Save on Funeral and Burial Costs
While the median price for a funeral with a viewing is $7,848 and a cremation with a viewing is $6,970, that doesn't mean you can't find a better price. Here are some tips to save on funeral and burial costs.
Shop around. Compare prices among funeral homes. Funeral prices can vary widely for the same type of service in the same town. A 2017 investigation by NPR found a funeral home that charged nearly twice as much as another funeral home for a cremation, even though both funeral homes used the same off-site facility.
Have a family member or friend help you negotiate prices. Planning a funeral can be both stressful and emotional. You may want to have a trusted friend or family member speak on your behalf.
Get price information over the phone. Take advantage of the FTC's funeral rule and ask for prices over the phone.
Only buy goods and services you want. Under the funeral rule, you have the right to buy goods and services separately. For example, you can purchase a burial, memorial and casket. You don't have to accept a funeral home's package if you don't want it.
Don't buy a casket. If you are having a cremation or an alternative (such as a green burial), you don't need to buy a casket. If you want to hold a viewing, you may be able to rent one from the funeral home.
Read more related articles here:
How much does a funeral cost? A complete breakdown
Also, read one of our previous Blogs at:
How Can I Ease the Burden on My Family in Funeral Planning?
Click here to check out our On Demand Video about Estate Planning.
Click here for a short informative video from our own Attorney Bill O'Leary.